BYE-ELECTION-(9) 2023 BYE-ELECTION-(9) 2023
16-11-2023 10:00 AM
Nomination form distribution start date
20 days ago
23-11-2023 03:00 PM
Nomination form distribution end date
13 days ago
16-11-2023 11:00 AM
Nomination submission start date
20 days ago
23-11-2023 03:00 PM
Nomination submission end date
13 days ago
24-11-2023 10:00 AM
Nomination scrutiny start date
12 days ago
24-11-2023 05:00 PM
Nomination scrutiny end date
12 days ago
27-11-2023 03:00 PM
Nomination withdrawal end date
9 days ago
12-12-2023 07:00 AM - 06:00 PM
Polling Date
in 5 days
13-12-2023 10:00 AM
Counting Date
in 6 days
Electorates
| # | District | Males | Females | Others | Total Electorates |
| --- | --- | --- | --- | --- | --- |
| 1 | ALAPPUZHA | 800,471 | 909,874 | 11 | 1,710,356 |
| 2 | ERNAKULAM | 1,214,414 | 1,304,691 | 33 | 2,519,138 |
| 3 | IDUKKI | 426,844 | 446,241 | 5 | 873,090 |
| 4 | KANNUR | 918,426 | 1,068,238 | 10 | 1,986,674 |
| 5 | KASARGOD | 487,761 | 535,602 | 6 | 1,023,369 |
| 6 | KOLLAM | 997,393 | 1,145,785 | 19 | 2,143,197 |
| 7 | KOTTAYAM | 748,112 | 807,626 | 10 | 1,555,748 |
| 8 | KOZHIKODE | 1,183,344 | 1,305,068 | 24 | 2,488,436 |
| 9 | MALAPPURAM | 1,584,716 | 1,688,644 | 45 | 3,273,405 |
| 10 | PALAKKAD | 1,081,047 | 1,184,536 | 20 | 2,265,603 |
| 11 | PATHANAMTHITTA | 479,320 | 556,907 | 3 | 1,036,230 |
| 12 | THIRUVANANTHAPURAM | 1,286,318 | 1,471,579 | 23 | 2,757,920 |
| 13 | THRISSUR | 1,227,136 | 1,390,190 | 23 | 2,617,349 |
| 14 | WAYANAD | 293,823 | 310,515 | 6 | 604,344 |
| | Total | 12,729,125 | 14,125,496 | 238 | 26,854,859 |
Poll Manager
An app for Pre-Poll and Poll day activity management used by Polling officials. This app helps hassle free, accurate and quick hourly voter turnout data transmission from Polling Stations. Pre-poll & poll day online reporting, contact search facility, message broadcast, SOS message handling are the major features of Poll Manager.
LEARN MORE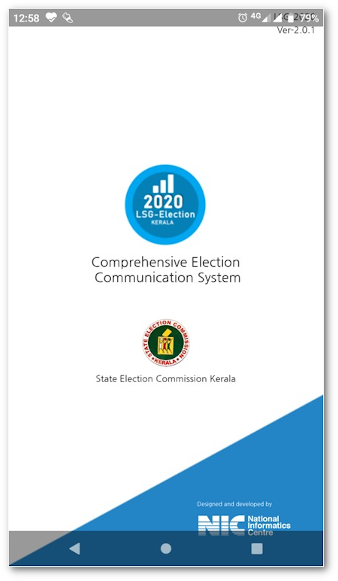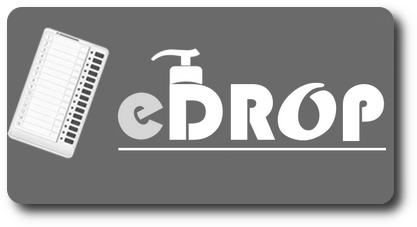 eDrop
A web based solution for all activities related to posting of officials for election duty. The System randomly mixes all data and assigns the officials for polling duty against each polling station. Nearly three lakhs employees were posted for election to local self government during 2010 using eDROP.
LEARN MORE
Trend
Realtime Trend of counting and quick results for public, media and media centers. Counting data is collected from all the counting centers in real time. The system is designed such that it could handle very large of users.
LEARN MORE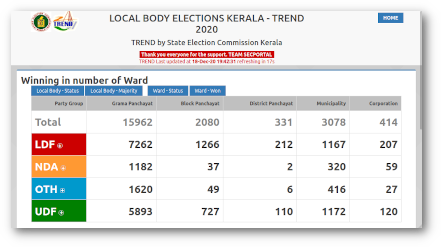 External Links
Loading...